"This is the day that The Lord has made. Let us rejoice and be glad in it." - Psalm 118:24
Today, I am joyful to be a co- host on
http://stringtownhome.net/
!
This blog hop is pretty easy!
1. Add your blog, social media pages, etc. (anything and everything that you use & we can follow you at).
2. Follow the host & cohosts.
3. Follow as many of the other link ups as you can... make friends!
Are you interested in a co-host spot?
Email stringtownhome@hotmail.com, & we'll put you in line!
Also, we would
LOVE
for you to grab a button & share it with your readers... the more the merrier!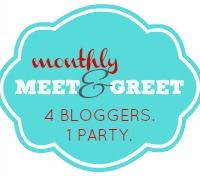 & Remember - we party like this every first Monday! Don't miss out!
Hi! I'm Terry from Sharing Divine Inspiration.

The purpose for my blog is to uplift others.

Right now, I am experiencing a challenge in my life, and my mind often drifts to thoughts of worry, fear and concern.

While preparing to write this co-host post I wondered how to write an uplifting post without pretending that everything in my life is perfectly wonderful.
The Bible teaches that we must be joyful in all circumstances.
So, I thought about how I am managing to be joyful through this difficult time. The answer came to me immediately - through gratitude! I know that when I focus on what I am grateful for in my life I find my joy.
Therefore, this blog post is going to be about the things I am abundantly grateful for. These are just some of things that bring me joy. These are just some of the things for which I say, "Thank You, God."
#1. My Green Chair
This was a gift from my sister Helen. I start my day here every morning with my coffee, my Bible, my devotionals and my gratitude journal. The first thing I do is write down ten things I am grateful for and why. My joy is awakened. I am grateful for my faith. I am grateful for my sacred space.
#2. My husband Gary.
Gary and I have been happily married for 32 years. He is a wonderful husband! I am abundantly grateful that God blessed me with Gary.
#3. My children.
Gary and I were blessed with quadruplets. Aren't they adorable?
This is them now. They all graduated from college last year. We are very proud of them. Yes, it was not easy raising quadruplets, but they are absolutely a blessing! Gary and I are both abundantly grateful for our children. They bring us great joy!
#4. My Family
I have two sisters and one brother. My sisters are the two ladies on the right. My siblings are 11, 14, and 17 years older than me. My mom passed away when I was eight and my dad when I was 28, but God blessed me with these wonderful siblings. I am abundantly grateful for my siblings.
#5. My Friends
I am blessed with wonderful friends. Last summer my friend Denise and I attended the blogher conference in NYC. We had a blast! Oh, yes! The lady in the middle is Ree Drummond, The Pioneer Woman. I adore her too. I am grateful for my friends.
#6. My Job.
I am a special education teacher in an elementary school. I love my job! I adore my colleagues! There are certainly days when I am frustrated, exhausted and overwhelmed, but I still love my job. I work for and with the best people anyone could ask for. I am abundantly grateful for my job!
#7. My Pets
I have two cats, Dory and Bernie. They bless me with unconditional love. Well, maybe not so unconditional. Bernie loves you more if you give him bacon, and Dory loves you more if you rub her tummy. They know when I am upset, and they snuggle and cuddle and won't leave me alone. I love that!
#8. My Home.
I love my home! I love being home! There is no where in this world I would rather be than my home. My home is filled with love and laughter. I am grateful for my home!
#9. Knitting and Needle Felting.
I love to knit! I love to needle felt! I love to combine the two! I am grateful God blessed me with the ability to knit and needle felt. I have knit my way through many upsetting times. Knitting centers me. Creating brings me joy.
#10. Barry Manilow.
I love Barry Manilow! I saw him on Broadway this past February. He is wonderful! Whenever I am feeling down I listen to Barry and I immediately feel better. I am grateful for Barry Manilow! I am grateful Barry Manilow used his gifts to bless and serve others.
I could go on. There are many more things in my life that I am grateful for. BUT, this did the trick. I feel JOYFUL just from writing this blog!
Try it. Take out a notebook and write down ten things that you are grateful for. I guarantee that no matter how you are feeling right now you will increase your joy.
And, dear readers, I am extremely grateful for each and every one of you. Thank you for reading my blog!
Thank you, Heather, for inviting me to be a co-host on your blog. I am grateful that you blessed me with this opportunity
Love,
Terry